Building op-erigon: how Test in Prod joined the Optimism Collective
Test in Prod authors this guest post where they share their journey of discovering the OP Stack and building op-erigon.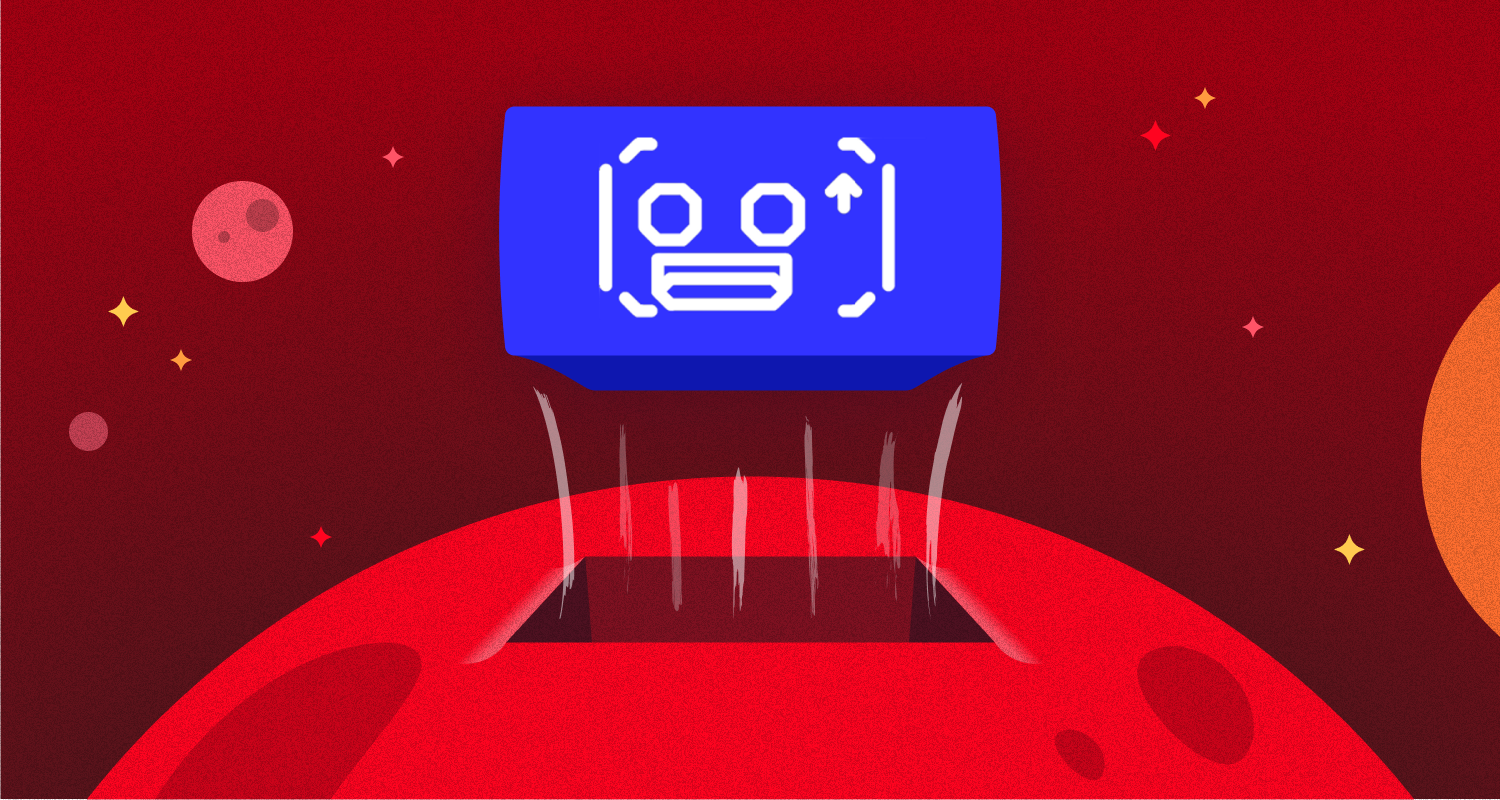 Sup, nerds! This is Test in Prod. We are the team behind op-erigon.
We were proud to help OP Mainnet's leap towards client diversity by launching op-erigon on OP Goerli testnet a few weeks ago. (Fellow community members a16zcrypto also launched their rollup client Magi that week!)
Today, we are writing this blog to tell you the story behind op-erigon: our journey to contributing to the Optimism Collective. We hope this story inspires other developers who are looking for an interesting problem to work on or simply an entry point for participating in the Collective.
Discovering Bedrock 🛏️ 🪨 via community hype
In January, we were building Layer 1.5—a public good that allows anyone to launch their own rollup easily on their desktop. We were researching Optimism, as we had a hunch that it was the perfect option to launch Layer 1.5 with because of its MIT License.
Many community members were super hyped about Bedrock at that time. We noticed that people who put the 🛏️ 🪨 emojis in their Twitter handle were declaring that the Bedrock update was 🤯 and would fix "everything." Everyone was talking about improved block time and TPS, but based on the hype we knew that Bedrock had to be a bigger deal than just those details.
OP Labs had not started promoting all of the benefits of Bedrock yet, so we read through Optimism specs and published presentations for the latest information. And after reviewing all the information we could find, we too became super excited about Bedrock after we understood the complete vision.
A complete vehicle for scaling and decentralization.
What is that complete vision, you ask? Bedrock lays the foundation for Optimism's big picture goals of scaling Ethereum and decentralizing the Collective. There are five important components of the big picture:
Bedrock: A software upgrade & release of the OP Stack that modularizes Optimism's codebase.
OP Stack: Optimism's codebase and rollup framework. Allows building custom rollups by combining different modules depending on a project's particular needs.
Superchain: A vision for an interoperable set of chains built on the OP Stack that enables cross-chain interactions.
Optimism Collective: A group of organizations and people that are collaborating on the OP Stack, the Superchain, and the Optimistic Vision.
RetroPGF: An incentive mechanism that retroactively rewards contributors for their work in the ecosystem, ensuring those who impact the collective profit from their contributions to the ecosystem's growth.
🤯! We couldn't miss an opportunity to contribute to this vision. We wrote down our thoughts on Bedrock and the OP Stack in a blog, and got to work reading the specs.
Embarking on a mission to build op-erigon
After we posted the blog, we slid into the notorious Kelvin Fichter's DMs asking if he could review it. Even though it was the very first conversation with him, he was very friendly and even RT'd our post! In our DM conversation, we asked him: "How do we become another OP Labs? Where should we start contributing?" He set up a call, so we happily hopped on.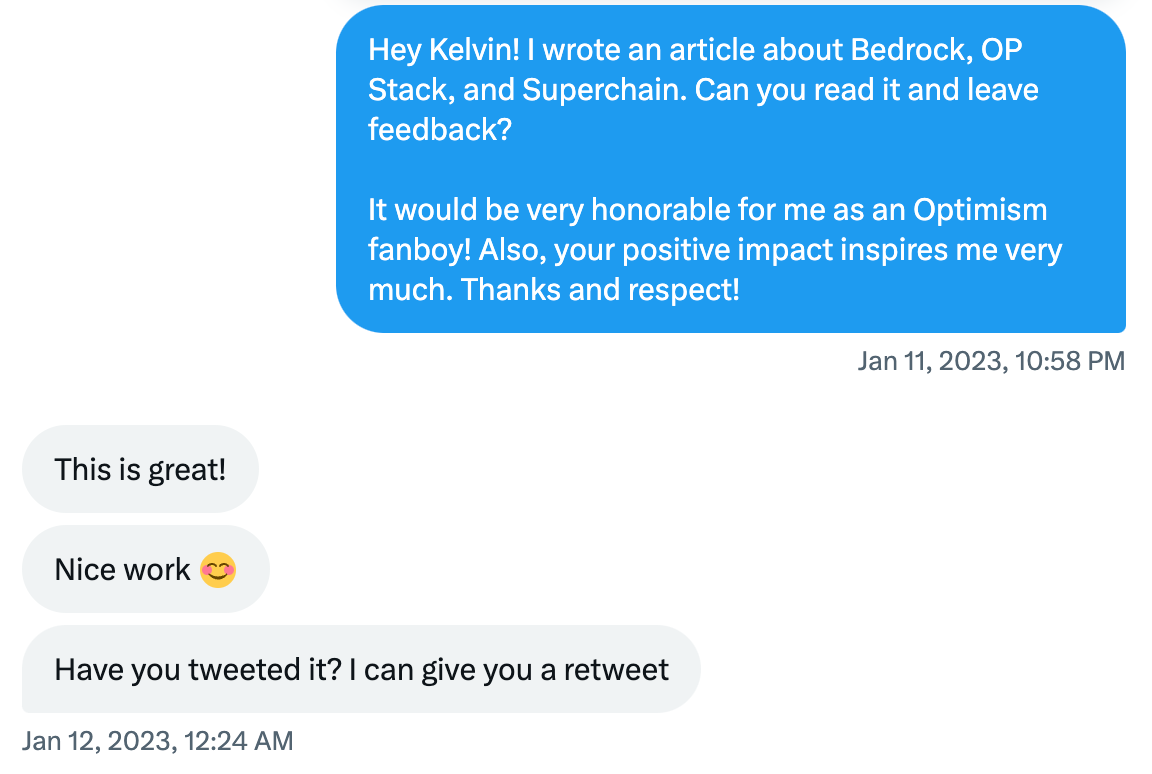 In the call, we showed off some fancy ideas for OP Stack. Kelvin thought they were good ideas, but said they might not be clear enough for a team who just got to know Optimism. He advised us to start with a task that was very straightforward and impactful: op-erigon. He said it would be a clear success if we could sync the chain!
We immediately started to spend nights and days reading the specs, understanding the code, and building op-erigon. The Bedrock specs were so elegantly designed, and all information we needed was documented online!
There's someone more excited than us: OP Labs
We were able to sync the chain after a few crazy weeks, thanks to OP Labs' support. At ETHDenver, we had a chance to meet Kelvin and many Optimists. We were very surprised that they were even more excited about our work than us! Karl Floersch in particular left a positive impression on us. Here's the story.
Even though we knew how to code, we didn't know how to derive actual impact out of our work. But OP Labs helped us plan to spread the word, tell the community this exciting news, and talk about our story! It was a very exciting experience working with OP Labs. 😎
It's about the Collective.
We need you to build the Superchain with us. There are still so many things to build and problems to solve.
I can tell you that the Collective is ready to have you for the following reasons:
The tech is getting there, thanks to years of research of Plasma Group, Optimism, and the community.
Awesome people are gathered there, and know what they're doing. They are all kind, capable, pure, and super helpful people.
Interesting problems are everywhere, and interesting problems are all opportunities. With RetroPGFl, there's a clear way to get compensated for your work if you make an impact
Lastly, thanks to OP Labs, Kelvin, Proto, and Lindsay for guiding us and helping us a lot. We couldn't have done this without ya. ❤️
Stay optimistic, y'all 🫡